Gweithdy Renovation Project –
A Progress Report from Eileen Clayton:
You may well be aware that that this project has started.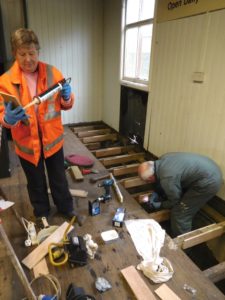 At this stage, the work currently being carried out is mainly repairing the timber frame, which need the basic DIY skills of sawing and hammering, but we will also have some plumbing work and other small tasks that we can start work on. We have now bought an all singing, all dancing infrared paint remover which will make it much easier to strip paint off our old doors. Have the honour of being the first to use it!
Come for a day, weekend or all six days. Almost all the planned work can be done inside, so weather should not affect us – if we can get additional people working, the more will get done, and the earlier the Gweithdy Renovation Party can be held!!
After this Working Party we have two more planned for this year, when we should be into "putting it back together" – much more satisfying than making 'invisible' repairs.
The dates for our Autumn Working Parties are: Friday 26th October to Sunday 4th November & Monday 26th November to Tuesday 4th December. You are more than welcome to join us for some or all of the time.
lf you would like to help, and are available, please make contact with Alan Norton anorton@ffwhr.com or Eileen Clayton, Eileen@eileenclayton.net; we will be delighted to hear from you!!!