Gangs Part 2 – the Black Hand Gang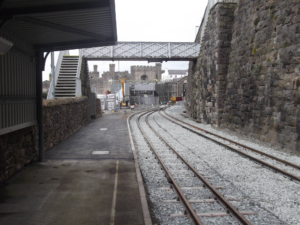 It is surprising what you can find out just by reading such as the FR Heritage Magazine, The FR Society Magazine and Snowdon Ranger.
How many of us subscribe to all three? In the Snowdon Ranger, for instance, I found stories in the Working Party Reports of 3 of the gangs I listed in my earlier report.  An alternative way to finding things out when you don't get an answer to requests for information!
For this issue I'll start with the hard working Black Hand Gang.  During the winter months, they were responsible for dismantling the headshunt at Caernarfon, fitting 52 non-slip nosings on the steps at the footbridge at Waunfawr – which they brag can be seen from the top of Snowdon –  and extension track laying towards the new station building. Early March saw them working on the turnout and by St Patricks day, and the luck of the Irish with the weather, the platform road and loop line were completed. Snow stopped play but with the help of some of the Tuesday Gang, the headshunt was completed. Nothing remained but the need for ballast hoppers and tampers to ensure that everything was ready for the 1st  service train on 24th March.  Great job done by all.
Next working Party: July 7th and 8th – followed by 21st and 22nd July and 4th & 5th August, followed by 18th & 19th August. You can contact Dafydd Thomas dthomas@ffwhr.com for more information.