Vintage Trains Open event at Tyseley Loco Works in Birmingham
Former WHRS Chairman Michael Whitehouse, who spent much of Hunslet 125 interfacing with visitors to the F&WHR had a similar role at Tyseley.
Mr and Mrs Richard Herington (an Ffwhr volunteer) were manning the VT sales stand. So not much gardening has been done at the Whitehouse/Herington households for the past two weekends, having spent the previous weekend working hard as a volunteer for the Hunslet 125 celebrations at Minffordd Yard!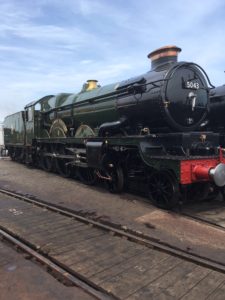 It was my first trip to the site since K1 departed back in April 2000. The main change has been to the VT locomotive fleet. When K1 was there we were surrounded by rusting hulks – most of which are now pristine – and several in steam. Credit to the TLW team.
Keith Holland FFWHR Volunteer