What is Happening at Betws Garmon Station
Mike Hadley sent an interesting article on work proposals for this building on the Welsh Highland
Observant readers may have noticed that Betws Garmon Station has recently acquired vegetation on the top of its remaining walls. Not so long ago any half diligent building manager would have got the lot cleared off pronto but ideas come full circle and putting turf on the top of stone walls is now seen as a means of preserving them rather than a threat to them.
It's part of a conservation scheme instigated by the Welsh Highland Railway Heritage Group and involved raking out and repointing the mortar joints to the stonework, replacing some stonework where stones were lying adjacent, filling the inside with slate waste to just below the former floor level and …..putting earth and turf on top of the walls (now legitimised by the title 'soft capping'). Lime mortar was used to bed the stonework in.
English Heritage has pioneered soft capping at Hailes Abbey in the Cotswolds, chosen for their trial because it is located in a frost pocket and has suffered increasing and serious damage to the stonework over the last few years.
Soft capping:
Acts like a 'thermal blanket' on the wall top, moderating both the upper and lower limits of air temperature changes, preventing damage from frost and also reducing the amount of thermal movement in the wall
Sheds water in different directions each time it rains and the longer grass stems often act like an overhang, directing water away from the wall face
Appears to stabilise water movement within the core of the wall
Offer protection to exposed stonework, but does no harm to historic fabric and can be easily removed in the future if necessary
The station is one of the original NWNG Railways structures with a slated roof and random stone walls (mostly 500mm thick) and brick quoins and window and door reveals.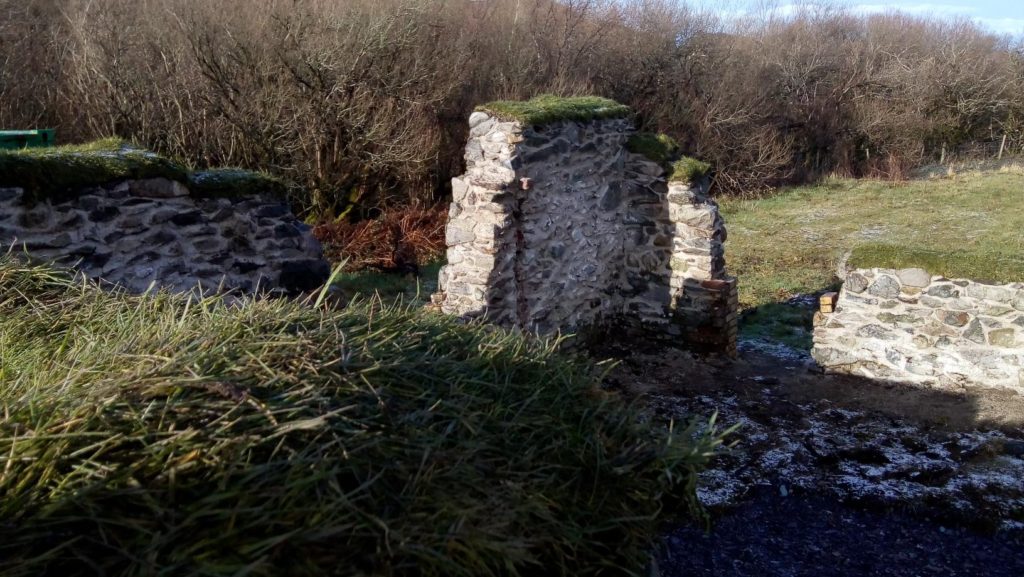 For a number of years the Heritage Group concentrated its building activities on rebuilding Tryfan Junction, the water tower at Beddgelert, Pont Croesor platform waiting room and Pen y Mount signal cabin. Betws Garmon Station is not in any plan to be reopened and much of the structure including all of the roof, part of the walls and all of the joinery is missing. However there was some evidence the remaining structure was becoming unstable, thus the decision to undertake a conservation scheme of what remains. It will be finished off with a running in board.
Our thanks must go to our contractor, Cyril Williams of Waunfawr who has carried out a number of projects for the Heritage Group and always manages to do an excellent job.
Mike Hadley WHRHG
A more detailed account of the project will be in the March WHRHG Journal. f