Gweithdy Working Party Report No 8 Mar 2019
Many thanks to Eileen Clayton for this report. The main focus of this working party was to fit a new external drain, fit new internal drains plus cold water pipes, then connect these up. We also had to install new manholes.
We didn't choose a good weekend to do this as it rained for most the weekend with gales on Sunday. People were wallowing round in a mud bath, many wet through to the skin by mid day on Sunday. Fitting new internal drains and cold water pipes involved crawling round under the floorboards ‐ lots of short straws this weekend!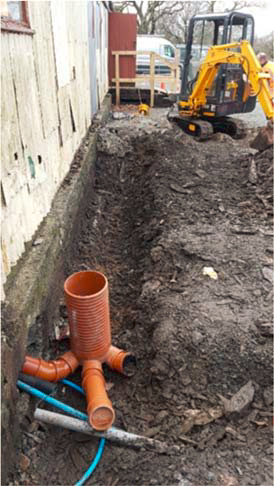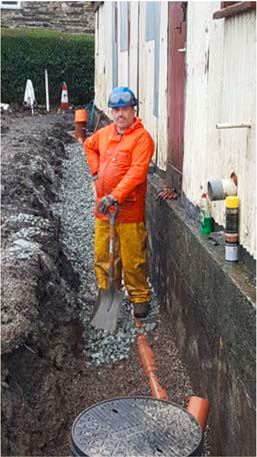 Here is one of a number of our heroes and this was taken before they got seriously wet & muddy. By the end of Sunday, Whizz & Anthony should have been put through a carwash fully clothed! No photos of them at this time as it was too wet to get a phone out & people were focusing on finishing the job.
In the brush cleaning room, the floor was removed to allow new drains & water pipes to be filled, with the new pipes routed through the concrete base walls so they will no longer pass through the corrugated sheeting. Then the joists were repaired & new, previously varnished, floorboards fastened on top. The tongue & groove on the internal Blaenau end wall was removed then new filled.
The new units were filled into the kitchen & the frame for the sink built, then the sink (but not the drains or water supply) & worktops were secured in place. "Fitting the worktop" may be easy to write, but it was certainly not easy to install!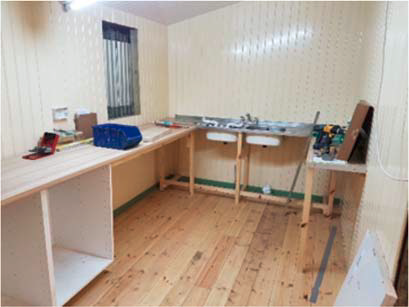 The remaining t&g was filled on the north wall of the main hall & the bare wood painted so that all the wall has now had its first coat. All the corrugated sheets for the Blaenau end are now
painted, including topcoat & we have bought sufficient for
the West wall; our painters who work between working
parties have already put primer on these, but there's still
lots more painting to do!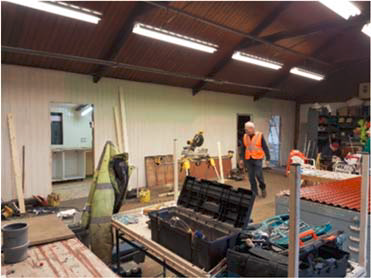 Our next working party is: Thursday, March 28th to Wednesday, April 3rd
This is when we intend to replace the corrugated
sheeting on the Blaenau end wall, postponed because of
high winds last autumn. This time we have a cunning
plan, as we've set the following working party for
Wednesday, April 24th to Tuesday, April 30th
so that if for any reason we don't achieve the work, the
scaffolding can remain up until the next working party ‐
weekly rental is very low, the erection & removal of
scaffolding is around £1000. In addition we have lots of other jobs indoors, more t&g to fit, the inevitable painting & sanding (with an electric sander) installing the porch door frame & doors, fitting the remaining south wall nails plus lots more items which
could be done by someone who only had an odd day to
spare.
Hope you can join us. Contact: eileen@eileenclayton.net or alanfnorton@gmail.com