James Spooner Progress Report
Some five years ago the Ffestiniog Railway Company decided to build a new double Fairlie locomotive to sustain the ability to haul the long and heavy trains which are a regular feature of the railway these days.
Work started with the design of a new boiler to replace one of a pair of fifty-year-old boilers, built by Hunslet in 1969. With the third boiler fitted to locomotive 'David Lloyd George' also approaching twenty-five years old, taking steps to reduce the average boiler age in the fleet was seen as a way to mitigate against the risks associated with an ageing Fairlie boiler pool.
Designed at Boston Lodge this new boiler has been under construction for more than two years at Powys Steel Fabrications. The sub-assemblies of the boiler were brought to Boston Lodge in October and have been welded together in the last month. Boston Lodge staff are about to complete the riveting of the foundation ring and tubing the boiler. A hydraulic test in expected early in the new year.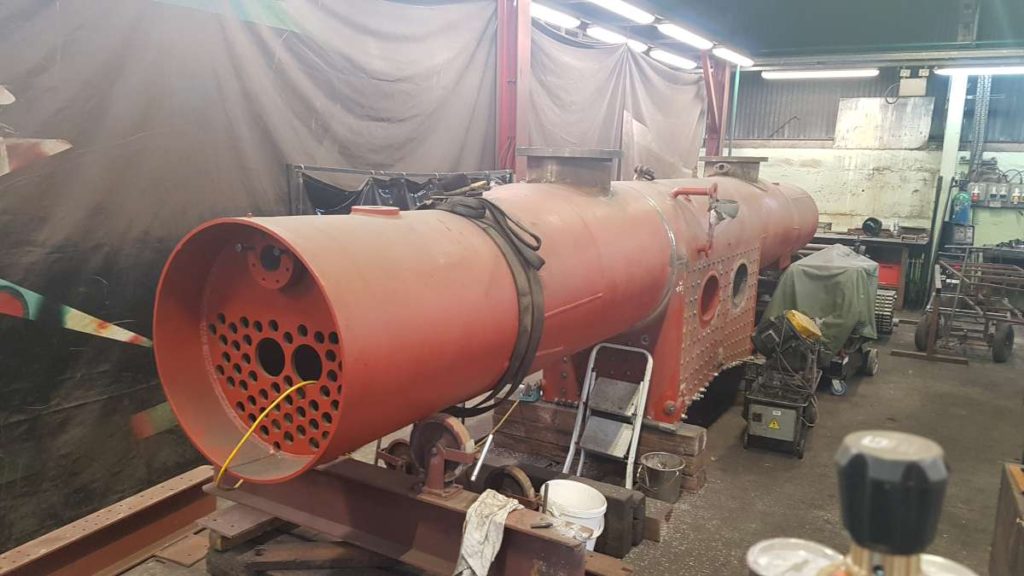 The cradle frame which carries the boiler was fabricated over the course of the last year and more recently the final parts including the reversing gear and brake rigging have been completed. The frame which is mounted on the 1986 bogies last in service under withdrawn locomotive 'Earl of Merioneth' is now ready to accept the completed boiler.
The superstructure for the locomotive has been Designed by volunteer Dominic Wells using modern CAD software. At the end of November some 3.5tons of steel profile were scheduled for delivery at Boston Lodge. The space has been cleared ready for the major fabrication exercise that will see the new locomotive taking shape of quite quickly.
In addition to all this work the machine shop has been busy building the myriad of components needed. For example, the regulator 'J' pipes were on the horizontal borer at the same time as hand rail knobs were being produced on the neighbouring lathes. Meanwhile the rather fetching stove pipe chimney castings are weathering out in the yard awaiting the attentions of the Boston Lodge team.
It is hoped that the locomotive will see service in 2020 but much depends on the ability of the team to keep the attention on the new locomotive whilst at the same time keep the extensive operating fleet in working order. 2020 see the 150th anniversary of the trials of the first Ffestiniog Fairlie 'Little Wonder' therefore it seems fitting that the works is fully taken up with the Fairlies at this time.