Eileen Elisabeth Clayton, MBE – 16 April 1944 – 27 December 2019
Eileen Clayton has featured many, many times in the pages of the Society magazine, a clear sign of her passion for, and contribution to, our railway.  Sadly, I now have to write her obituary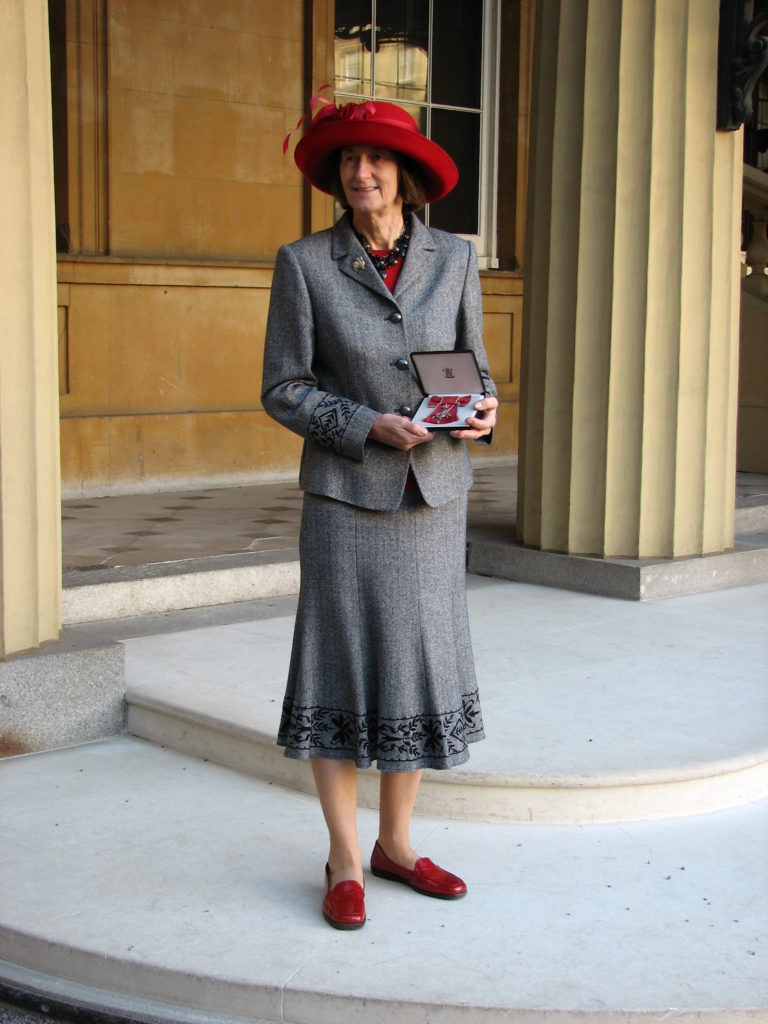 Eileen was born in Silsden, near Keighley, the first child of Peter and Doris Tunnicliffe. Eileen was a frail baby; she told me that the midwife had predicted that she would not reach three months of age. We are all fortunate that she was so wrong! In 1955, the family moved to Hellifield, where she attended Settle High School. I suspect she got more from her visits to Hellifield station – where she was the only girl loco-spotter – and on local farms, than she did from the school, which she did not remember fondly; they parted company in 1960, with Eileen having four O Levels to show for it. Initially she worked for Johnson and Johnson's, before becoming a Post Office cashier, a job she did until 1964, when she married Vince Bradbury and moved to Blackburn. There she got a job as a school lab technician and she went back to studying , gaining more O and A levels, before attending Lancaster University as a mature student. Eileen obtained a Teaching Certificate qualification in 1971and went on to get a Bachelor of Education degree in 1972. Armed with this, she became a science teacher at Billinge High School, in Blackburn.

At Billinge Eileen found her niche, working with young people and she never lost her enthusiasm for it. She helped the neediest pupils and soon developed a relationship with the Field Studies Council at Rhyd-y-Creuau, just north of Betws y Coed. In the Easter holidays, she would take parties of 12-13 year old students from Billinge, teaching them about nature, climbing and walking and about living away from home. Her organising skills even then were legendary and she spent much of her summer holidays working at Rhyd-y-Creuau.

In 1977 Eileen found what she thought was the perfect job for her, as a lecturer at Snowdonia National Park's Plas Tan y Bwlch centre; she and Vince moved to North Wales, settling in at Maentwrog. It was, of course, impossible for a former loco-spotter to ignore what was happening up the hill behind her workplace and very soon Eileen became part of the Ffestiniog family. She passed out as a fireman, developing a great affection for Merddin Emrys, always her favourite loco. From 1980 onwards she ran courses at the Plas which focussed on the railway and its associated industries, as well as other 'Great Little Trains of Wales', the first being the legendary 'line that refused to die'.

Eileen had strong opinions and was never afraid to voice them. The FR of the early 80s was not particularly attractive, having overstretched itself to get back to Blaenau; Eileen set about improving its appearance. She rapidly became a familiar figure on the line, accompanied, when not firing, by her Papillon dogs (Benedict, Dominic and the infamous Sebastian were all around in this period). At one Society AGM she complained about how poor the signboards were, ripping an example to shreds with her bare hands to make her point.

In 1985 the Board persuaded David Pollock that the railway's appearance had to be improved and he appointed Pat MacGregor to set up a Gardens Department – on top of everything else that she had to do, which was already a considerable workload. Not surprisingly, Pat got Eileen to help her and within six months Eileen was running Parks & Gardens, a job that she did for 30+ years.

Eileen and Vince divorced in 1982. A year or so later a regular PW volunteer, Neil Clayton, helped Eileen with some work and before long they became an item. Neil moved his job from Manchester to Dinorwig, they purchased Gwyndy and in 1986 were married. Someone said to me at the time that they were made for each other; never was a truer word spoken.

To go through the next thirty years in detail would take more space than that available, but Eileen was a real powerhouse, leaving a trail of successful projects in her wake. She expanded volunteer working, introducing mega-bash, giga-bash, 'Kidz Weke' and a series of gardening working parties, all of which continue in some form to this day. She organised projects galore – painting Harbour and Blaenau Stations and their canopies innumerable times; restoring iron fencing in key locations; repainting parts of Boston Lodge works around the staff working there; restoring historic buildings at Minffordd (the Gweithdy), Penrhyn and Tan y Bwlch; and building new ones at Minffordd (the hostel) and Tan y Grisiau. Nothing was beneath her notice and she set a wonderful standard for the railway's aesthetic, which we also see reflected in the projects she was not involved in – the station buildings at Minffordd, Dinas and Waunfawr and the restoration of Boston Lodge loco shed and Minffordd goods shed, are some examples. All were done by others, but all reflected Eileen's high standards.

Eileen's project management was outstanding, especially when volunteers were involved. She always tried to find the finance for her projects, as well as the volunteers to deliver them. If you were on an Eileen-managed working party you knew you would have work, supervision, tools and materials, refreshments, transport, social activities and a heart-felt thank you at the end – accompanied by a request to come back and do more.

Throughout Eileen's adult life she encouraged young people to maximise their potential and nowhere was this more obvious than on the FR. Pre-Eileen, new volunteers were not really sought out or encouraged. Female and young volunteers, in particular, were almost non-existent. She made it her mission to bring in new volunteers, especially youngsters and we now have Company Directors who joined the railway as Eileen's 'kids'. Many others have gained positions of responsibility on the FR and indeed in the wider rail industry. The fact that the Ffestiniog has a noticeably younger volunteer profile than most heritage railways is largely thanks to the changes she introduced. Eileen's efforts with volunteers were recognised with an MBE in 2006.

A long-term, but largely unseen part of Eileen's work has been supporting Neil in the electrical working parties. These have run six times a year for decades now, with Neil organising the work and Eileen getting the volunteers together, many of whom stay at Gwyndy. Paul Lewin has estimated that the work of this group has saved the company a good half-million pounds to date.

Eileen's commitment to the railway ran deep, but it was not her whole world. Her love of wildlife and knowledge of botany were instantly obvious and she continued to study these all her life. She relished hill-walking, was keenly interested in nutrition and enjoyed travelling. I have already mentioned her passion for Papillons. She bred several generations of puppies and delighted in showing people that they're not just a pretty face; Eileen & Neil's dogs have been successful in agility, obedience, heelwork to music and showing, as well as riding on the back of 'Goliath', their 71/4-inch gauge engine.

Eileen was one of the kindest people you could hope to meet. She would help anyone in trouble, dropping everything else, if that was appropriate. As a result, she made many loyal friends and Gwyndy was often over-run with guests. Her concern and care for others extended beyond providing comfort and friendly advice; if she thought you were doing something wrong she would tell you so. No-one who knew Eileen would mistake her warm heart for soppiness!

In 1994 Eileen was diagnosed with multiple sclerosis. She kept this under wraps for many years, but by 2010 the disease had begun to affect her noticeably. A major fall and a brain tumour (fortunately benign) further compromised her physical health and eventually she had to start using a motorised scooter. As the decade progressed, supported by Neil's infinite love and care, she carried on leading projects and working parties, despite being unable to do any physical work herself. Her good IT skills allowed her to continue to communicate efficiently, even though by late 2019 she only had minimal use of her hands and her head. She wrote a long article for the last issue of the magazine about the Gweithdy project; by the time it was published Eileen was in Ysbyty Gwynedd with a severe infection. She was able to make a last brief visit to Gwyndy just before Christmas, but went back into hospital after a couple of days and died there late on December 27th. Over 200 people attended her funeral, a moving tribute to a great supporter of our railway and a great person.

On Christopher Wren's tomb in St Paul's, it says, albeit in Latin, 'If you seek a memorial, look around you'. The same goes for Eileen – throughout our railway, the gardens, the buildings and, above all, the volunteers are her memorial. Continuing her work is the best way we can honour her.

Andy Savage.