The Festiniog & Welsh Highland press on with Carriage Building, Restoration and Repair
Boston Lodge Carriage Works has been hard at work during the winter period. A new carriage (Carr.) for the Welsh Highland Railway (WHR) is nearing completion, Ffestiniog Railway (FR) Carr.15 has had its original livery beautifully restored and a great deal of maintenance has been carried out on other carriages.
WHR Carr.2048 is due for completion after Easter. We will be making a much more detailed report when it is about to enter daily service. At the same time WHR Carr.2045 is going through a comprehensive ten-year overhaul which includes repairs to the floor, a complete re-varnish of the seats, tables and walls, plus professional cleaning of the upholstery. FR Carr.103 is back in service, having received the same treatment, while FR Carr.121 will be the next to benefit from a ten-year overhaul.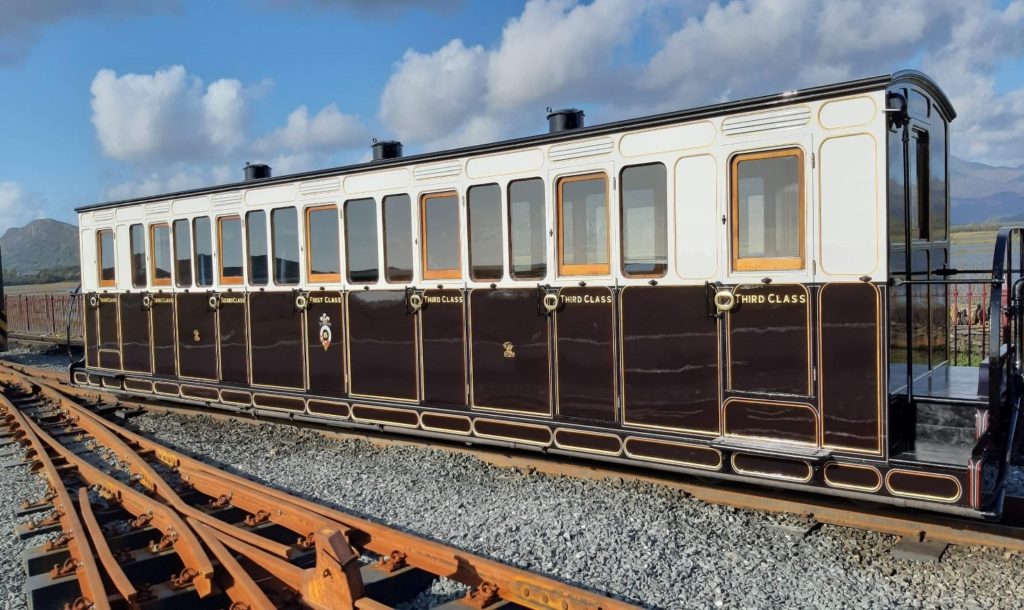 FR Carr.15 has had its original-style livery restored and the accompanying photograph shows the final impressive result. This carriage is of great interest to railway enthusiasts because together with FR Carr.16 they were the first bogie carriages to be built in Britain and date from 1871. They were very substantially built, with a wrought iron framework to support the wooden body, unlike the successor FR bogie coaches built later in the 1870s. Britain's only Welsh Prime Minister, David Lloyd George, used both carriages when travelling to Blaenau Ffestiniog to catch the London and North Western Railway train to Llandudno Junction and then travel on to London (this also explains why the second Double Fairlie locomotive to be built in the preservation-era is named after him). Both of these carriages were extensively restored, following the receipt of a grant from the Heritage Lottery Fund; Carr.15 was restored to its original livery and Carr.16 to the much plainer 1930s green livery. Both carriages are in regular service on the Festiniog, so when you visit the railway you may well get the chance to ride in them.
What work has been done on Carr.15? To quote Tony Williams, the Boston Lodge Manager: "Carr.15 has been showing the rigours of life in North Wales!"- not only has it been subjected to very wet weather, but also to the salty, sea air environment in and around Porthmadog. Some work was done to the woodwork after which it was externally thoroughly cleaned, sanded very carefully and then finally painted in the 1871 livery in which it has run since its original extensive restoration some years ago. Stephen Paul, a senior member of the Carriage Works team, said: "As this carriage is such a prestige vehicle, its paint work is a major concern to us; this particular repaint should last a long time – especially as we will soon be able to keep all our carriages undercover when the building of the new carriage sheds is completed".
FR Pullman Observation Carr.152 is to be freshly out-shopped, which includes re-varnishing, and is to be named 'Eryri-Snowdonia' (the Welsh name will be on one side and the English on the other). This means that all our four F&WHR Pullman Observation carriages will have local names. The FR Pullmans are named after the region through which the railway passes; 'Eryri' after the local area and 'Gwynedd' after the county (itself named after an ancient kingdom). The WHR Pullmans are named 'Glaslyn' and 'Gwyrfai' after rivers that flow through the area served by the railway.
FR Carr.102 is being renovated as part of a volunteer project. It used to be a First Class Observation saloon, but will return as a Third Class observation saloon. It is to be turned round so that it will be at the opposite end of the train from the new First Class Pullman. The FR and WHR have two passenger classes – First and Third (or Standard class) because we never followed British Railways in changing Third to Second Class. In fact, some of our 1870s bogie carriages still have Second Class compartments (these are treated as Third/Standard class). Carr.102 will be very similar to FR Carr.123, which is out of service at the moment; the only difference being that its former Guard's compartment has been adapted to take two wheelchairs.
A replica Pickering carriage is being built by Boston Lodge for the Welsh Highland Heritage Railway, also located in Porthmadog. This is a Brake Composite carriage that ran on the North Wales Narrow Gauge Railway and then on the original Welsh Highland Railway. Work on the chassis and bodywork is well underway. There will separate press releases about its continued progress. Please look-out for announcements in social media and on both railway's web sites.
Work continues on other carriages in the never-ending maintenance programme to keep our rolling stock in the best possible condition. This ongoing programme will of course be greatly helped when the new carriage storage sheds (previously mentioned) come into full use later this year, giving full protection not only from the rain but also from the salt-laden environment of the Glaslyn Estuary.