113th Electrical Working Party
This was the 'provisional' working party which was scrambled together at the last minute. Despite this we had 12 volunteers for which we thank you all. We had been asked to provide a new electrical installation for the old Goods Shed in Minffordd Yard as they need the building as a bar cafe during Hunslet 125. This gave us 3 weeks and a day to design, source materials, order, accept deliveries plus generally set up. Don't you just love 'em!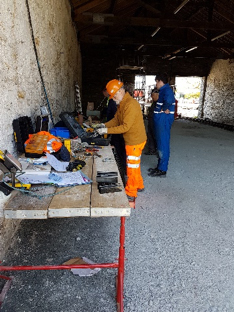 During the previous week Pat Norris made up 2 cable strings with conduit boxes every 3.4m. Additionally 4 volunteers came early to work with Neil on the Friday. We deeply appreciate this help, without it, it's unlikely we would have finished.
Waggon Tracks Shed Distribution Board
New Goods Shed Supply cable was connected into the Waggontracks distribution board and a circuit breaker fitted. This supply cable was made up of 2 lengths of cable jointed with a resin joint part way along the shed.
Removed temporary supply cable and circuit breaker supplying Goods Shed.
Goods Shed Distribution Board
Mounted distribution board, contactor controls and light switches on steel sheet fastened to Unistrut frame.
Lighting and power sockets
Fitted support hooks for suspending light fittings.
Made up and tested 12 light fittings and 2 emergency exit signs.
Ran previously made up cable strings with conduit boxes along the roof purlins.
Ran cables along building purlins from the distribution board for the switch location at the West end of the shed and for socket outlets.
The cables were fitted on cable tray which had been black powder coated to reduce the visual impact on the vertical runs on the walls.
All the high level work was carried out from a Mobile Elevating Work Platform.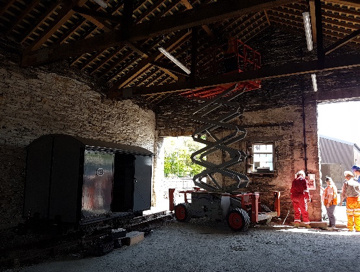 Bothy by S&T Building behind Maenofferen Shed
Installed electrical supply from the adjacent building feeding a Garage Consumer Unit with 2 fluorescent fittings and socket outlet.
Meeting Room by Offices
A new supply installed connected and tested from the adjacent Power House.
Sorting of stores.
A start was made on some of the contents of 199 Van.
Thanks Graham Little for the photos.
Appeal to all
I would be grateful if you could send  me a few photos taken on subsequent working parties.