Heritage skills Programme
The New Manager is in place (Kaz Spring), The money is in, the students are applying for places, programmes ready  and the management were even on TV to promote the scheme.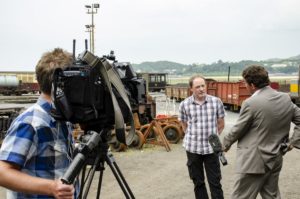 The main aim of this scheme, as written in the Ffestiniog Railway Society Magazine, is to tackle a developing crisis in the interpretation and conservation skills in the heritage sector of the British economy.
The 6 main areas of skills shortage in the future are,
1 Mechanical Engineering in the context of a Heritage Railway Engineering Works.
2 Horticulture in the context of Heritage Stations and their Gardens
3 Bench Joinery in the context of Heritage Railway Carriage Works
4 Rail Engineering and Track Maintenance in the context of Heritage Railway Infrastructure Department
5 Heritage Interpretation – looking at the history of a heritage tourist attraction
6 Heritage of Dry Stone walling and Fencing
For more information go to: www.ffwhrheritageskills.co.uk or kspring@ffwhr.com