Little Dragons in Blaenau – A New Venue for Children
As many readers have families and enjoy everything North Wales has to offer, I thought it only right that I tell you about a new venture here in Blaenau Ffestiniog.
This is one of the best play areas I've seen for children in a long time and I've seen a few when my granddaughters were small.
Kevin and Sue have done a fantastic job on the high street of Blaenau Ffestiniog, restoring a sad and derelict Chapel into this amazing space. As you can see from the pictures, they have retained the beautiful ceiling rose, retained the balcony and built this incredible challenge for children to enjoy.  Everything is sparkling and new and a credit to them for investing so much into making this building come alive again.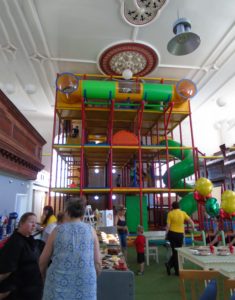 From floor to ceiling with mini zip wires, ball pools, slides and twirlers – the kids were having a whale of a time this afternoon.  It was great to see so many kids running, jumping and sliding around and making new friends!
Of course, there are places for the mums and dads to relax and watch their children whilst enjoying food and drinks in the café  – the food is Really… Good!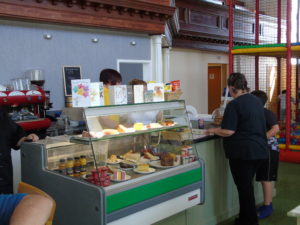 and as this little lad found, a place to rest for 5 minutes before racing back inside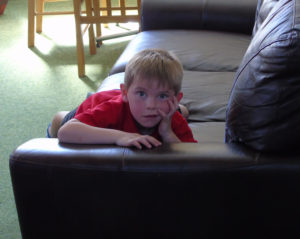 How much is it I am sure you are asking by now!  Ages 1-4, £3.95 and 4-11, £4.95.  Great value for money and only 2 hour time limits when it gets very busy – to avoid accidents!  Parents must stay on the premises as it is not a playgroup.  Hours of opening 10am to 6pm Have Fun!