Three New Books available from: https://www.festrail.co.uk/shop.htm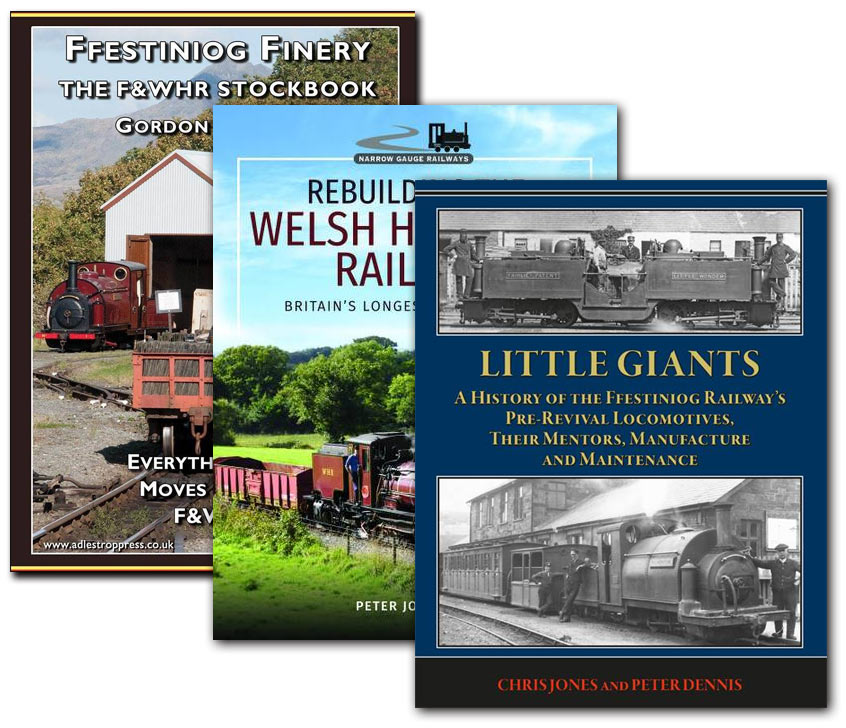 Ffestiniog Finery – The F&WHR Stockbook – Everything that Moves on the F&WHR by Gordon Rushton
This well illustrated 336-page volume offers access to the locomotives and rolling stock fleet, with historical explanations that many are unaware of, as well as a clue as to how things work, how they are used and a glimpse into the policy that is applied to them.
Containing drawings and maps to explain things this book will be an essential addition to any current or future F&WHR enthusiast!
https://www.festrail.co.uk/shop.htm
Rebuilding The Welsh Highland Railway by Peter Johnson
THE REVIVAL AND RESTORATION of the Welsh Highland Railway is one of the greatest heritage railway achievements of the 21st Century,. You are steered a course through the railways complicated pre-history before describing the events, including a court hearing, three public inquiries and a great deal of controversy, leading to the start of services between Caernarfon and Porthmadog in 2011. A postscript describes post-completion developments.
https://www.festrail.co.uk/shop.htm
Little Giants: A History of the Ffestiniog Railway's Pre-Revival Locomotives – Their Mentors, Manufacture and Maintenance by Chris Jones and Peter Dennis
This new study of the Ffestiniog Railway's locomotives takes advantage of on-line newspaper records and the recent cataloguing of the Ffestiniog's own archives to produce an authoritative record of not only the technical evolution of the engines but also the lives and interactions of the colourful characters involved with them.. The railway was extensively photographed and this book reproduces the best of those images at a large size, commensurate with their quality.
The book covers the period of operation from the earliest horse-drawn days until temporary closure in 1946. This has been done in strictly chronological order, allowing the reader to see when and why key decisions were made. The authors are both long-term volunteers on the railway and members of the Ffestiniog Railway Heritage Group. Peter was also on the permanent staff for fifteen years.