Drains Gang enjoying the Sunshine
As a quick up-date from Sunday the drains gang dodged the rain and a good day ensued… until 3pm. Then the heavens opened…..
The new chamber at Weigh house was completed by our new recruit, Trefor, and Phil..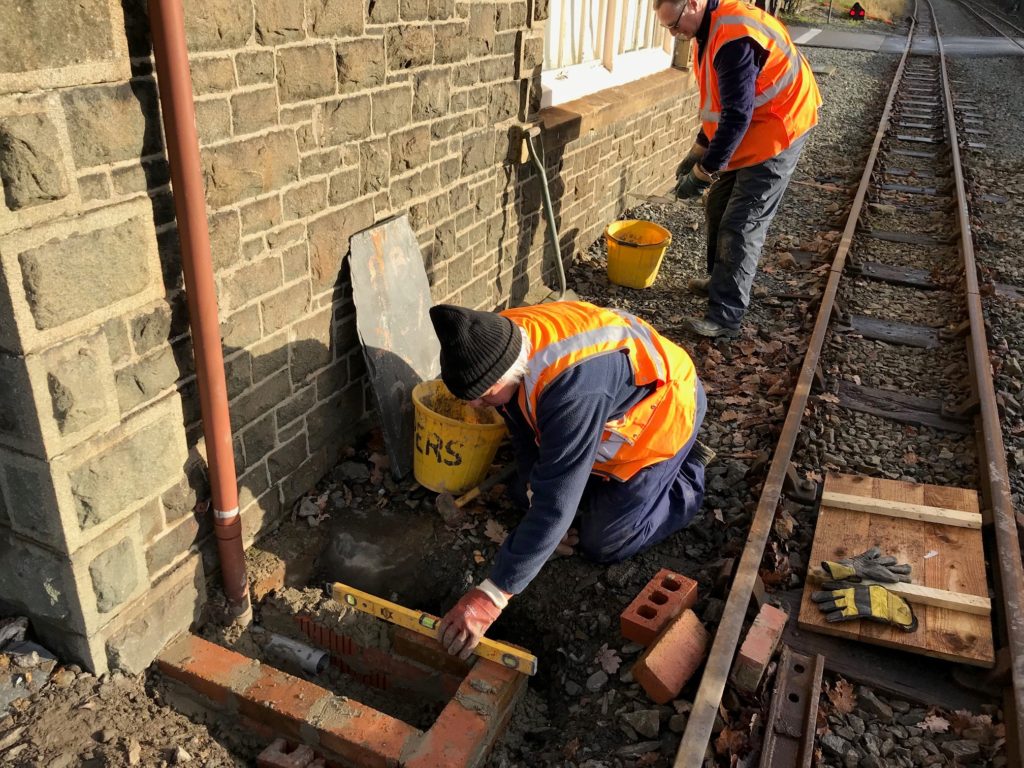 Trefor,in the process, demonstrated a dab-hand for brickwork and a very neat job indeed was completed.
We took the opportunity with our new (world….sssh……) HQ forPeter and Tony to sort the stock of pipes and fittings stored for years in the waggons in the Waggon Shed
 We also had to undertake unplanned emergency repairs on the new greenhouse which appeared to have suffered in the storm on Saturday and had lost, as a result, a rather large pane of glass. (Alex has subsequently reported the greenhouse appeared to have tried to take off!   It was certainly horrendously windy on Saturday)
A nearly lunch at TyB was then followed by rodding from TyB Bridge down to the track relaying site at Whistling Curve and the measurement of the chambers to add to our records.
In the meantime it has been very nice to have  been contacted by Fred Howes with some wise advice re the flooding issues at TyB station (and in line with the Roman Road)  we found some months ago.
 For January it would be great to distribute the all new lids we have in stock so I hope we might secure a train to do this.
Anyone wishing to join this small but mighty team, exploring the length of the railway in digging up bits of history as they go along, should contact Iain Harris on iain.harris1026@gmail.com