Electrical working Party Update – Boston Lodge
The weather was awful but it did not stop the electrical Working Party completing essential wiring work to Glan y Mor shed
There were two main jobs, completing the electrical workshop and installing lights in the recently re-roofed GYM engine shed. The latter not an easy job, but certainly out of the worst of the weather.
Electrical Workshop
New Distribution board – transferred remaining circuits from old dis. board to new board.
Tested office circuits, lighting & power.
Workshop 3 Phase Socket – connected up & tested 3 phase socket.
Lobby Lights on old DB – rationalised & transferred to new distribution board.
New lighting in Loft on old DB – transferred circuit to new distribution board.
Outside Lighting Circuit renewed.
Lights on North wall of building, 2 by locker room entrance, 1 by passage to No1 Boston Lodge, 1 by end wall facing Machine Shop Wall, plus 1 over door by Elect Shop entrance were removed, cleaned, checked & replaced.
Moved photo cell to outside North wall of porch.
Made up & fitted isolation & override switch for outside lighting circuit.
Renewed cabling around outside the building, partially on cable tray, to light fitting locations around building using black Hi Tuf cable, clips & nylon compression glands.
New Lighting in Locker room – fitted emergency light fitting over door & extended conduit for light switch & emergency lighting test switch. Completed conduit wiring & installed B6 RCBO to distribution board.
Main Works Erecting Shop DB42 – changed 2 D63. MCBs To C63s.
GYM Loco Shed
Lighting – renewed all 20 light fittings plus 6 emergency light fittings.
Main fittings suspended on hooks from existing trunking & connected using plug-in ceiling roses mounted on back entry conduit boxes attached to the trunking with attachment assemblies. Emergency fittings connected via plug in ceiling roses but attached to the lighting trunking directly.
Switching completely revised to ensure no risk of water ingress.
Loco Shed Office – renewed light fitting with LED
Removed cable to DB13 in GyM Loco Shed rear section & blanked off holes in DB.
Loco Shed, removed 240V 13A Metalclad Socket on Erecting Shop side wall.
230/24V Transformer – isolated and removed equipment.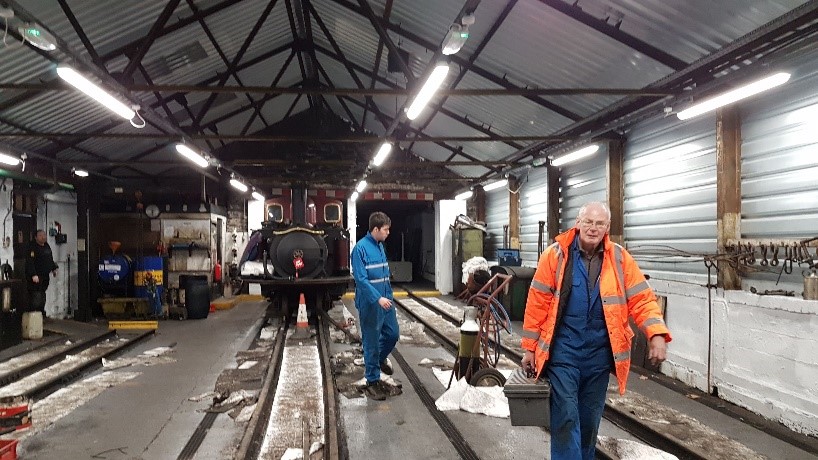 Carriage Works, Machine Shop
Circular Saw – renewed isolator with 4 Pole isolator in metal enclosure.
Fitted new shroud to gland on feed cable to machine.
Top Yard Lighting – renewed cable joint to light on rock face.
Below is the backplate of a light switch in the electrical workshop. The front of the switch looked relatively okay, certainly not severely rusted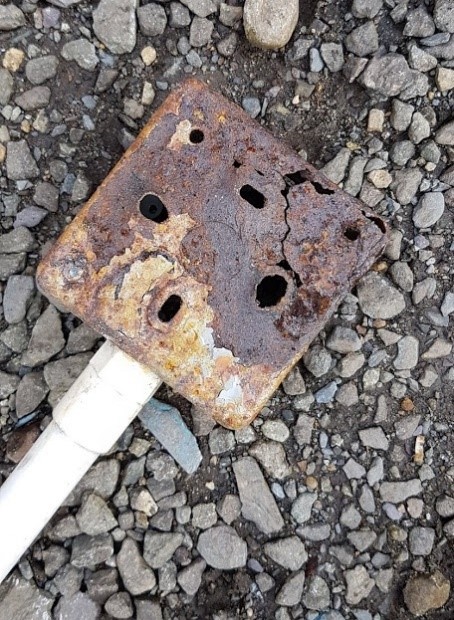 119th Working Party meets Saturday 23rd and Sunday 24th February.
The priority will be making up the cables and light fittings ready to install into the rebuilt 13/14 road carriage shed. They will (have?) extend the roof upwards by about 1½ m. Obviously the old fittings can't be re-used as they had been there quite a long time and suffered from being so near to the salty winds. We have a narrow time slot in March in which to install the lights, so if all has been pre-prepared we should be able to do it in the limited time available, just as we did the Waggontracks shed and the Heritage Carriage shed. We will be grateful if some of you could stay on until the Monday of the February working party, an extra day which will hopefully ensure that the preparation is completed. There is also plenty of work left on the job list from the January working party
If you want to join the working party, contact eileen@eileenclayton.net or phone Eileen or Neil on 01766 770 860 or Snail Mail: The Claytons, Gwyndy, Penrhyndeudraeth, Gwynedd LL48 6RY