120th Electrical Working Party
This was held over Megabash. Very many thanks for your support; we had 14, including Neil, most of whom worked for more than two days.
13/14 shed should have been easier than the Waggontracks shed when comparing the numbers of lights & the length, but it was technically more difficult. It was made worse by there being a tight timeline as to when we would be able to work on the building which in turn was made worse by gale force winds. It must have sounded like we were dithering when we were saying we would almost certainly need a three day weekend, but couldn't tell you whether the extra day was Friday or Monday. Be that as it may, the shed was ready in time for a determined start with 10 of you on Friday; Vic & Neil had done a lot of job planning the day before and Pat with Neil got the tools together on Wednesday.
What was achieved can be listed in one sentence: we fitted a new lighting installation into the renovated 13/14 road carriage shed. However, as you all know there was more to it than that.
On the previous working party sections of cable with glands, conduit boxes etc were prepared & the light fittings were made up & tested. Two MEWPs, a scissor lift & a cherry picker were used to give access so that the cables could be fastened along the girders, not an easy job with the weight of the armoured cable! Whilst we had access, cable tray was fitted across the shed to allow a cable route for future power supplies.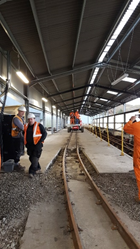 36 lights were fitted (compared to 100 in the Waggontracks!). A new main distribution board had previously been fitted. Over the working party a replacement 110 distribution board, switch boxes for lighting & a control panel, were fitted. Vic was given the unenviable task of sorting out the wires into the distribution board; this went well, apart from a last-minute hiccup
We also have a long list of maintenance jobs, which we've been working through for some time, but the installation of the lights took longer than we estimated, so none of these were attempted although there was some standing around particularly on Sunday.