New Welsh Highland Railway Pullman Carriage Officially Named
On Saturday October 5th., the newly-constructed Welsh Highland Railway Pullman Observation Carriage was officially named Gwyrfai at Caernarfon Station.
The brief ceremony was performed by Councillor Edgar Wyn Owen, Chairman of Gwynedd Council, accompanied by John Prideaux, Festiniog Railway Company Chairman and Dafydd Thomas, Chairman of the Welsh Highland Railway Society.

Gwyrfai is the second Welsh Highland Railway observation carriage to be constructed, the first being Glaslyn which was named at Dinas Station by Her Majesty Queen Elizabeth II in April 2010.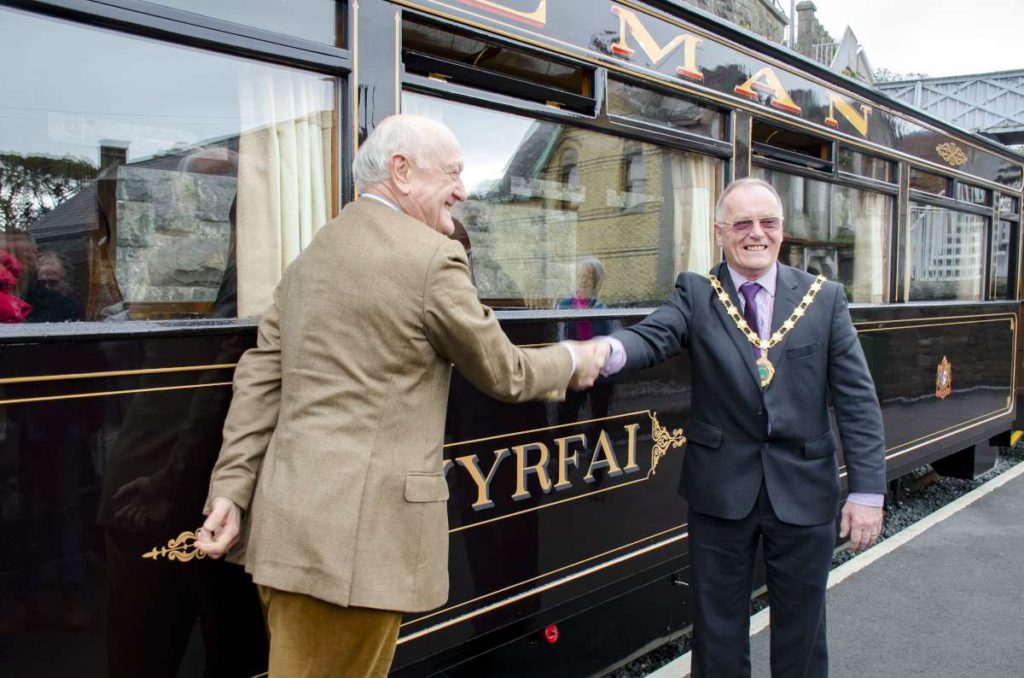 The new carriage was built entirely in house, with construction of the frames starting in early 2018 at Boston Lodge Works. In August 2018 the completed chassis was moved to our carriage works where the elegant bodywork was crafted by a team of full-time staff and volunteers. The build was financed by the Welsh Highland Railway Society.

F&WHR General Manager Paul Lewin says:

"This carriage sets new standards for comfort, and will give visitors incomparable views of Snowdonia as they enjoy the Welsh Highland Railway. This follows hot on the heels of the opening of our new station in Caernarfon, and shows that we are striving to give our customers the best possible experience in terms of facilities and luxury. Our staff at Boston Lodge should be commended once again for the high quality of their work and we would also like to thank the Welsh Highland Railway Society most sincerely for their generosity."

Gwyrfai has already entered service on the railway, and is available to enjoy immediately.