Pioneer Beyer-Garratt Moves to Statfold Barn
Beyer-Garratt K1, widely regarded as an icon of the nascent Welsh Highland Railway, has been sorely missed by enthusiasts and WHR Society members alike since it was withdrawn from traffic back in 2014, when a ten-year boiler overhaul became due. Since withdrawal it has lingered at Dinas in a part-dismantled state, awaiting full retubing and an 'intermediate' overhaul of its power bogies.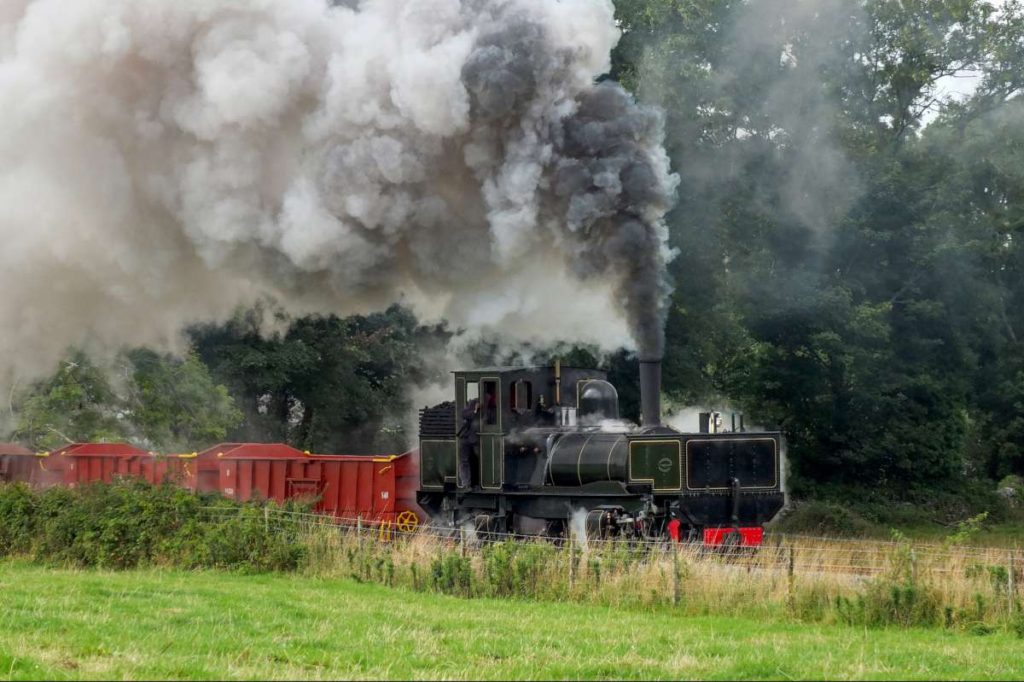 FR Company Director Mike Hart comments:
"We have a very heavy workload at present in our workshops at Dinas, where we are working towards having four NG/G16 Garratts available for traffic on the WHR. K1, whilst originally thought to be ideal for the WHR, has proven to be both underpowered and lacking in bunker capacity to work normal-length WHR passenger trains. In addition, it has become very apparent that this locomotive (and its sister K2) were prototypes. As a result, K1 is a high-maintenance machine, and maintenance often involves a considerable amount of dismantling. It is therefore difficult for the F&WHR to prioritise work on this locomotive at this time. A 'window of opportunity' to carry out an overhaul in the summer of 2019 failed to materialise, and it is likely to be at least four years before another opportunity presents itself".
The F&WHR enjoys excellent relations with the team at Statfold Barn, and by working together a solution has been found that will allow enthusiasts ready access to the locomotive, ahead of an eventual return to service. K1 will move to Statfold Barn at the end of November 2019 and will go on display shortly thereafter. Cosmetic restoration will take place, including the reinstatement of cab fittings removed at the end of its last period in service.
Mike Hart comments further:
"K1 is a really interesting locomotive, and we are very conscious that people like to see it. With no facilities for public access at Dinas at the present time, we are really grateful to the Statfold Barn team for taking charge of it. Not only will the locomotive be on display but it will be possible to make some fascinating comparisons with other locomotives in the collection. We know it will be in safe hands".
Henry Noon, Statfold Barn Trustee, comments:
"We are absolutely delighted to have the opportunity to offer a secure home for this iconic locomotive. K1 will join our extensive collection of narrow-gauge rolling stock and will assist in telling the story of the development of narrow-gauge motive power. It will join our varied mix of locomotive types, which includes the only examples of Mallet articulated locos in the UK, the historically-important Eclipse and Coalition (electric locomotives that were converted from Bagnall steam engines) and an 1884 Corpet with Browns Patent valve gear, amongst others. K1 will be on display at all of our railway events so that we can provide an opportunity for visitors to view this impressive machine at close quarters, and also publicise it to a wide audience. We are happy to build on our already-close relationship with the F&WHR. K1 will be available to be inspected during our first dedicated Enthusiasts Event of the year on 21 March 2020".
Eventual return to steam should be a reasonably straightforward matter as the boiler which K1 carries was built by Israel Newton when the original boiler, which came from Tasmania with the locomotive, was found to be beyond economic repair.
K1 was built in 1909 at the Gorton Works of Beyer Peacock and was repatriated by them in 1947, 18 years after it last saw service in the southern hemisphere. When the Beyer Peacock company closed down, the locomotive found a new home, albeit in a part-dismantled state, in Porthmadog. Unsuitable for use on the Ffestiniog Railway, due to its size, the engine was moved to the National Railway Museum in York in 1976, where it was displayed in works grey for many years. Extracted from the NRM in 1995 a determined and devoted team of WHR volunteers rebuilt the locomotive, first at Tyseley, and latterly at Boston Lodge. It entered service on the WHR as an oil-burning locomotive but only came in to its own when converted to coal. It ran successfully for several years hauling short trains to the then-terminus at Rhyd Ddu, a duty for which it was ideally suited.
The final Garratt locomotive built at Gorton works, South African Railways NG/G16 No.143 is also now based at the Welsh Highland Railway. It is currently in active service, and a spare boiler is being overhauled for it ahead of a planned overhaul in 2021/22. Naturally there is a desire to see both locomotives in steam side by side again at some point in the future.