A grand day out was had by all – over a hundred on the train I am told. The weather was mild and only light drizzle. Even the unheated carriage got quite warm with a dozen bodies in it!
Lots of stops on the round trip with opportunities to catch up with everyone and chat to new people although, it was also an opportunity to top up the glasses! Whilst it got noisy with laughter and good humour, everyone survived to enjoy the bangers and mash served in the café afterwards – and it was dished out on time.
Abergynolwyn was busy as this was our long stop whilst the engine was moved to the front and the driver and engineer had a well earned break.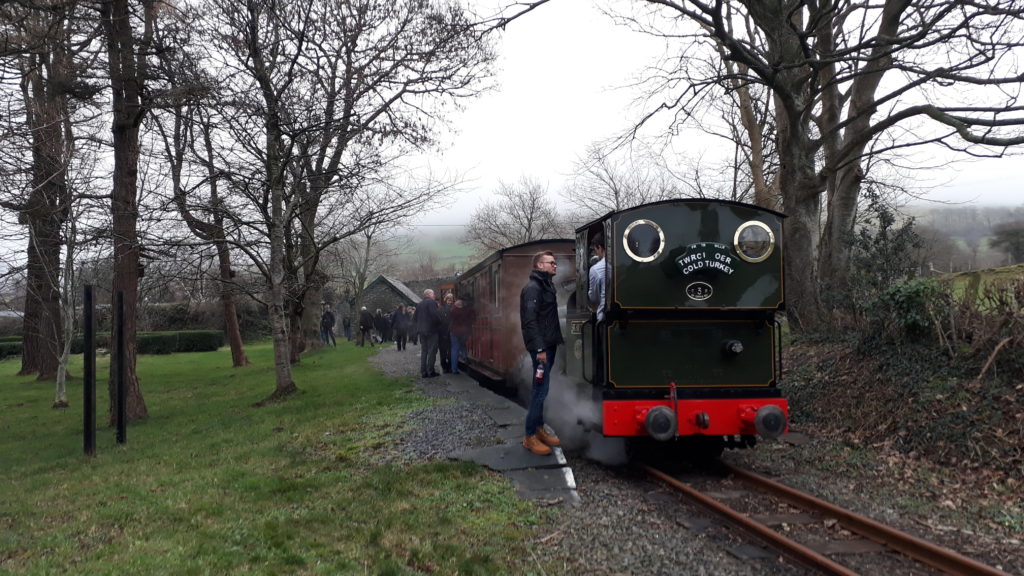 Kings Cafe reminded me of Hogwarts, with all the tables joined down the middle and plates being passed along. Hilarious when it was pudding time as shouts of who wants chocolate cake or who wants apple crumble coming down the tables – everyone trying to remember what they ordered!
A Big Thank You to all the Staff and Volunteers of the Talyllyn Railway who gave up their time to make sure our visit with them went so well. Thank you Chris Jones for the featured image of Sir Haydn at Dolgoch