122nd Electrical Working Party
Report, by Eileen Clayton
Still a reasonable turnout, despite several regulars being unable to join us.
The Gweithdy once again was the centre of our activities. We completed the conduit and trunking except the south wall socket circuit which we left until the next working party, partially because it would have meant moving a lot of items.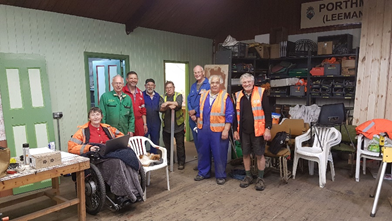 The lighting circuits were completed. We still await the delivery of the new lights for the main Hall although we did have one of each kind which we mounted, connected to the distribution board and lit.
Power circuits in the annex for sockets, the hob unit and the water heaters were completed and tested.
The assembly of the distribution board was continued and several circuits connected up.
Next Working Party Saturday September 14th to Sunday 15th
On this working party we intend to complete all the electrical work in the Gweithdy. We would very much appreciate your help, especially from those can join us on the Friday. There are the new lights to fit, as well as the water heaters and the heaters, the distribution board to complete and obviously the testing.
If we did manage to complete all this, then we will send a small team to Boston Lodge to try to get some of the items of the ever mounting repairs list.
If you want to join the working party, please contact eileen@eileenclayton.net or phone Eileen or Neil on 01766 770 860 or Snail Mail: The Claytons, Gwyndy, Penrhyndeudraeth, Gwynedd LL48 6RY